The Prince George Omineca Chapter of BCHBC are looking forward to being your hosts at the first-ever Rendezvous north of 100 Mile!  This event has been postponed for 2 years now due to COVID and we are keeping our fingers crossed that it will be a "go" this year.  Your weekend pass will include 4 nights of free camping plus a variety of affordable clinics, trail riding, indoor vendors, Dutch oven demo & dessert cook-off, the ever-popular cowboy poetry contest,an Escape Room, silent auction, Saturday night entertainment, Sunday pancake breakfast, Cowboy Church and more!
RV is a great setting for socializing and networking with other horsemen & women interested in preserving and riding trails in our beautiful province.
Most clinics & demos will be held inside the Prince George Agriplex, a quality equestrian complex adjacent to the CN Centre.  Some clinics will be held at the rodeo grounds outdoor arena.
Horse accommodation is stalls or your panels – no high lining, no electric fences, no tying to your trailer.  Clinic & stabling tickets available with purchase of your weekend or day pass (watch for registration info here in April). Horse trailers can be left in the Livestock & 4H camping area as shown below, but camping is only available at the rodeo grounds. Bring a wheelbarrow (if possible) & manure fork – maybe your bike to help get around!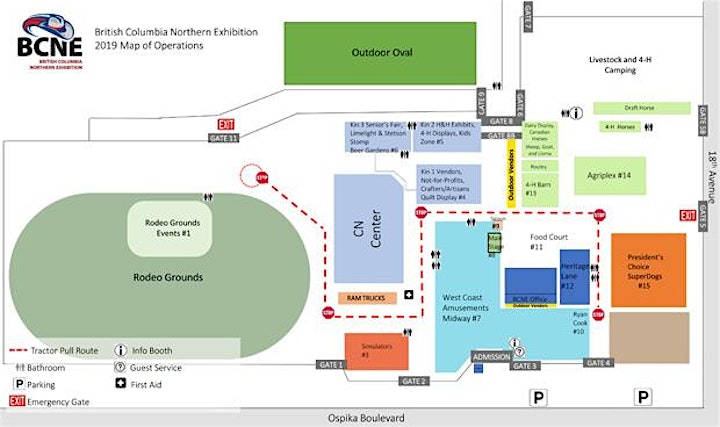 Above is an excellent visual for the layout of the BCNE rodeo grounds on the left (parking for rigs and camping), over to the CN Center where we will feature vendors, display Silent Auction items (donations welcome & appreciated!) and hold a catered Saturday night banquet & dance (if PHO allow) and Sunday pancake breakfast. Then on to the Agriplex, where most of our clinics will be held. Clean, heated washrooms & showers available in the CN centre as well as livestock arena (Agriplex#14). Stabling in "Draft Horse" location.  Large outdoor pens available at the rodeo grounds.  (Ignore notations for Midway, 4-H etc – this graphic is for the BC Northern Exhibition later in summer).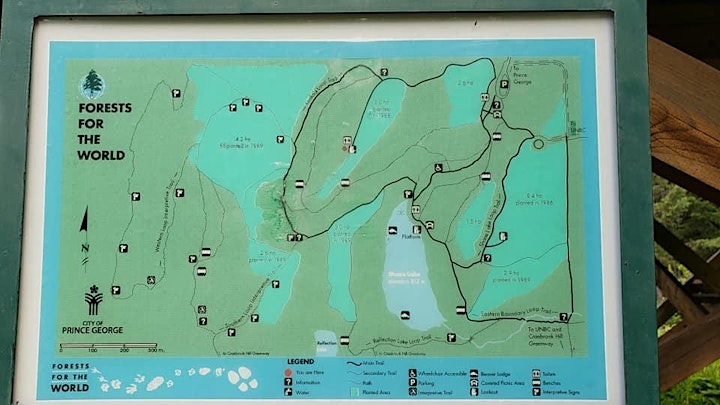 Above is a map of the "Forests for the World" trail system, directly accessed from the grounds – where you will be able to explore the area above the city of Prince George – on foot or on horseback!
But – none of this can happen without help from our Chapters!
Event organizer Sandra Erickson is still looking for a grant writer, first-aid attendants, campsite organizers and anyone wishing to volunteer wherever they can.  Many hands make light work!
If any Chapter would like to host an event at RV, we encourage you to email us at:  wccc@telus.net